In early June as people from across Schlegel Villages came together for the Pursuit of Passions event centred around a love of food and drink, an elite group of chefs awaited their moment to shine.
While residents, team members, families and guests toured Bingeman's Marshall Hall in Kitchener throughout the morning to sample the favourite recipes of residents of 18 villages – each one offering a flavour of personal history – four chefs from The Ruby restaurants of Schlegel Villages prepared to take the stage in an afternoon chef's challenge.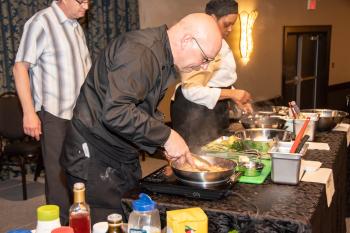 The Ruby is unique to Schlegel Villages; tucked neatly in the upper floors of the retirement neighbourhoods of Tansley Woods, Wentworth Heights and Erin Meadows, The Ruby offers residents and guests a dining experience as rich as any, but in the comfort of The Village. The chefs who lead the teams in each Ruby restaurant take pride in their work, bringing both skill and passion to their kitchens. In doing so, they are leading a new vision of possibility in the long-term care and retirement continuum.
"I don't think we realize sometimes in Village life that we have The Ruby restaurants upstairs," says Fred Piercey, director of hospitality at Wentworth Heights. "To showcase what we have upstairs and what these fine people can do on a daily basis is important. This talent that we have here is amazing – it's a hidden gem in every Village."
For the Chef's challenge, Regina Lyte and Jesse Seguin of Wentworth Heights square off against Terence Paul of Erin Meadows and Greg Leon of Tansley woods. They each have but 30 minutes to create a signature dish, each utilizing the same ingredients to show off their creativity; fresh Basa and meatless burgers are the proteins while an array of spices, oils, herbs and fresh ingredients line the pantries. For the next half hour, the smells and sounds of culinary art fill the space as onlookers await the creations, to be judged by a small panel of residents and team members.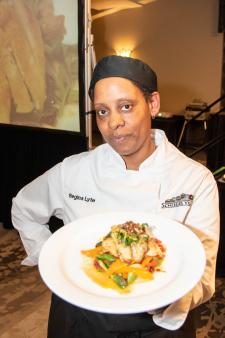 In the end, Regina Lyte's creation takes the People's Choice prize, and she smiles with pride as she receives her new chef's apron.
Regina has been with Schlegel Villages for 17 years, she says afterwards, explaining how she began her career as a personal support worker the day Tansley Woods opened its doors. "A love of food," she says, quickly drew her to the kitchen and she learned from others in both Tansley Woods and eventually Wentworth Heights how to develop that passion into a skill.
When she began cooking in The Ruby, that skill began to shine and, like the friends beside her this day, she's proud to offer the best of herself to the residents and guests she serves each day in her restaurant.